---
Gymnosperms produce egg cells in conelike structures without ovaries, and are frequently referred to as non-flowering plants.
---
Angiosperms (flowering plants) have true flowers, with pistils and stamens.
The pistil is "female": contains an ovary and ovule(s).
Stamens are "male": produce pollen.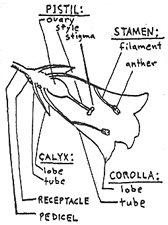 Non-reproductive flower structures in flowers are the corolla (petals) and the calyx (sepals). Sometimes one or both of these are lacking, and sometimes they are difficult to distinguish.
The receptacle is the basal area of a flower which bears the parts;
the pedicel is the flower stalk.
Bracts or bractlets are leaf-like or petal-like appendages, sometimes attached to the base of a pedicel or in an inflorescence in many plants.
Corolla lobes and tubes maybe present, as same with calyx. Petals or sepals may be lobed or fringed.
Pistils may be simple (one unit), or compound (several fused or separate units per flower).
Monoecious plants ... the pistillate and staminate flowers are separate but on the same individual.
Dioecious plants have either pistillate or staminate flowers only — thus individual plants are of one sex.
Polygamous plants have unisexual and bisexual flowers.
Inflorescences: Flowers occurring in groups or clusters are arranged in some particular form called an inflorescence. Bracts are often seen on flower stalks within, or on basal areas of inflorescences. Some common inflorescence types of woody plants are: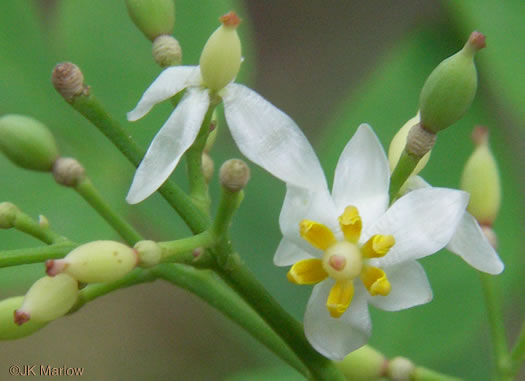 ---
Links to:
How Plants Grow: A Simple Introduction to Structural Botany by Asa Gray
Habit Terms
Plant Morphology Terms
Natural Communities
---
Other glossaries...
From Wayne's Word, an online textbook of natural history
From vPlants: a Virtual Herbarium of the Chicago Region
From Vascular Plant Systematics, by Radford, Dickison, Massey, and Bell
From the Plant Information Center at UNC, Chapel Hill
From the Native Plant Trust GoBotany project
From the Virginia Department of Conservation and Recreation
From the Northern Ontario Plant Database
From the Digital Atlas of Ancient Life
From the Australian Pea-flowered Legume Research Group
From (?)
---