Lycophytes: Lycopodiales

WEAKLEY'S FLORA (11/30/12):
Dendrolycopodium hickeyi FAMILY Lycopodiaceae

SYNONYMOUS WITH PLANTS NATIONAL DATABASE:
Lycopodium hickeyi FAMILY Lycopodiaceae
SYNONYMOUS WITH Guide to the Vascular Plants of the Blue Ridge (Wofford, 1989)
Lycopodium obscurum var. isophyllum
INCLUDED WITHIN VASCULAR FLORA OF THE CAROLINAS (Radford, Ahles, & Bell, 1968) 003-01-008b:
Lycopodium obscurum var. dendroideum FAMILY Lycopodiaceae
COMMON NAME:
Hickey's Tree-clubmoss, Pennsylvania Ground-pine
---
To see larger pictures, click or hover over the thumbnails.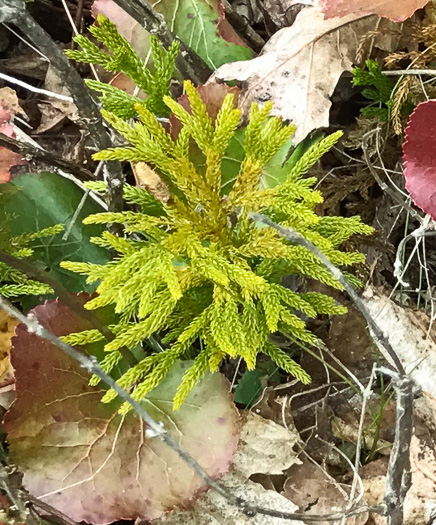 JK Marlow jkm210423_9673c
April Jackson County NC
Lateral branches appear almost round, vs. D. obscurum's appear flattened, per Jim Fowler's blog.
Keith Bradley kab_d_obscurum_0764
June Haywood County NC
Blue Ridge Parkway
Strobilus .3 - 2.5" long, sessile, per Peterson Field Guide to Ferns of Northeastern and Central North America.