Spermatophytes (seed plants): Angiosperms (flowering plants): Eudicots: Core Eudicots: Rosids: Fabids: Fabales

WEAKLEY'S FLORA (5/21/15):
Lupinus perennis ssp. perennis FAMILY Fabaceae

---
INCLUDING PLANTS NATIONAL DATABASE:
Lupinus perennis ssp. perennis var. perennis FAMILY Fabaceae
INCLUDING Native & naturalized Leguminosae (Fabaceae) of the US (Isely, 1998)
Lupinus perennis var. perennis
INCLUDED WITHIN VASCULAR FLORA OF THE CAROLINAS (Radford, Ahles, & Bell, 1968) 098-12-001:
Lupinus perennis FAMILY Fabaceae
SYNONYMOUS WITH Manual of the Southeastern Flora (Small, 1933)
Lupinus perennis
COMMON NAME:
Northern Sundial Lupine
---
To see larger pictures, click or hover over the thumbnails.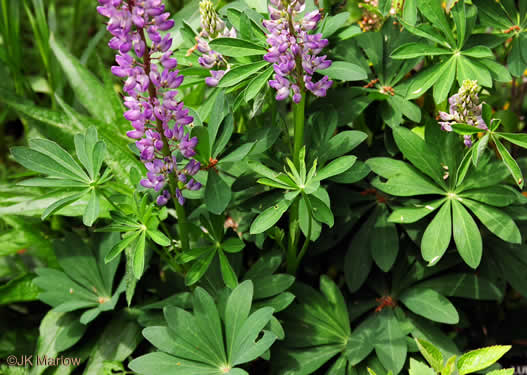 JK Marlow jkm0505k_37
May Haywood County NC
Corneille Bryan Native Garden
Leaves palmately compound; leaflets 7-11, oblanceolate, 3-5x long as wide, per Weakley's Flora (2015).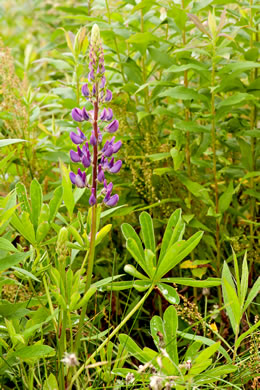 Keith Bradley kab_dsc1278
June Haywood County NC
Blue Ridge Parkway
This close relative of the famous Texas "bluebonnets" may grow 2' high, per Wildflowers of the Southern Mountains.
WEAKLEY'S FLORA (5/21/15):
Lupinus perennis ssp. perennis FAMILY Fabaceae

INCLUDING PLANTS NATIONAL DATABASE:
Lupinus perennis ssp. perennis var. perennis FAMILY Fabaceae
INCLUDING Native & naturalized Leguminosae (Fabaceae) of the US (Isely, 1998)
Lupinus perennis var. perennis
INCLUDED WITHIN VASCULAR FLORA OF THE CAROLINAS (Radford, Ahles, & Bell, 1968) 098-12-001:
Lupinus perennis FAMILY Fabaceae
SYNONYMOUS WITH Manual of the Southeastern Flora (Small, 1933)
Lupinus perennis
1947
Forb
Perennial

Native to the Carolinas
Documented growing wild in - NC SC
Uncommon
Look for it in sandhills, sandy roadsides, other dry (and usually sandy and nutrient-poor) habitats, per Weakley's Flora


Click here to see a more detailed map from University of North Carolina at Chapel Hill Herbarium,

or click here to see a map from SERNEC, a consortium of southeastern herbaria.

...Dry
LEAVES:
Palmately compound: 7-11 leaflets
Mostly alternate
Petioles (2) 5-10 (15) cm long
Stipules are filiform.

FLOWER:
Spring
Blue (rarely white or pinkish)
Bilaterally symmetrical
2-lipped calyx
5-parted papilionaceous corolla
10 stamens, monadelphous, of 2 lengths
Superior ovary

FRUIT:
Summer
Legume

TO LEARN MORE about this plant, look it up in a good book!
---