Spermatophytes (seed plants): Angiosperms (flowering plants): Eudicots: Core Eudicots: Rosids: Fabids: Malpighiales

WEAKLEY'S FLORA (10/20/20):
Viola odorata FAMILY Violaceae

---
SYNONYMOUS WITH PLANTS NATIONAL DATABASE:
Viola odorata FAMILY Violaceae
SYNONYMOUS WITH Viola (Ballard [in prep])
Viola odorata
SYNONYMOUS WITH Manual of the Southeastern Flora (Small, 1933, 1938)
Viola odorata
COMMON NAME:
English Violet, Sweet Violet
---
To see larger pictures, click or hover over the thumbnails.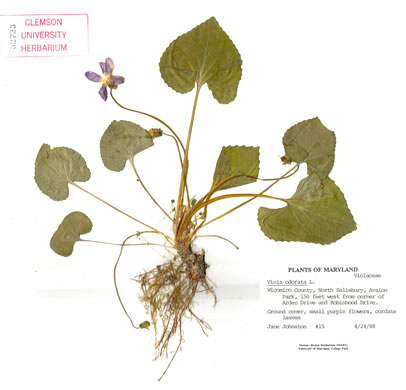 Herbarium of Clemson University h_cu32723b
April Wicomico County MD
Leaves basal (and from stolons), 5-10, ascending to erect; petiole 2-17cm, per Flora of North America.
WEAKLEY'S FLORA (10/20/20):
Viola odorata FAMILY Violaceae

SYNONYMOUS WITH PLANTS NATIONAL DATABASE:
Viola odorata FAMILY Violaceae
SYNONYMOUS WITH Viola (Ballard [in prep])
Viola odorata
SYNONYMOUS WITH Manual of the Southeastern Flora (Small, 1933, 1938)
Viola odorata
3418
Forb
Perennial

Non-native: Europe
Documented growing wild in - NC -
Waifs, persistent or weakly spreading from horticultural use
Look for it in gardens, lawns, disturbed places, per Weakley's Flora


Click here to see a more detailed map from University of North Carolina at Chapel Hill Herbarium,

or click here to see a map from SERNEC, a consortium of southeastern herbaria.
LEAVES:
Semi-evergreen
Simple
Plant acaulescent (without aerial stems)
Leaves pubescent, some nearly glabrous

RHIZOMES? STOLONS?
Stoloniferous
FLOWER:
Winter/Spring
Blue/White/or variegated blue & white
Bilaterally symmetrical
Lateral petals bearded
5 sepals
5 petals
5 stamens

FRUIT:
Winter/Spring
Capsule

TO LEARN MORE about this plant, look it up in a good book!
---