A Field Guide for the Identification of

Invasive Plants in Southern Forests
James H. Miller, Erwin B. Chambliss, Nancy J. Loewenstein
Invasions of nonnative plants into southern forests continue to go largely unchecked and only partially monitored.
Accurate identification of nonnative invasive plants is critical for recognition of new entries and positive control of existing infestations, but many invasive species closely resemble native species and most have been commercially bred to yield varieties with varying traits. This book provides the information and images necessary to safeguard valuable native plants and to target their invasive "look-a-likes."
USDA Forest Service, Southern Research Station, 200 W.T. Weaver Blvd., Asheville, NC 28804.
http://www.srs.fs.usda.gov/pubs/35292
A companion booklet, A Management Guide for Invasive Plants of Southern Forests, explains control recommendations, selective application procedures, and prevention measures for these and other plant invaders.
http://www.srs.fs.usda.gov/pubs/36915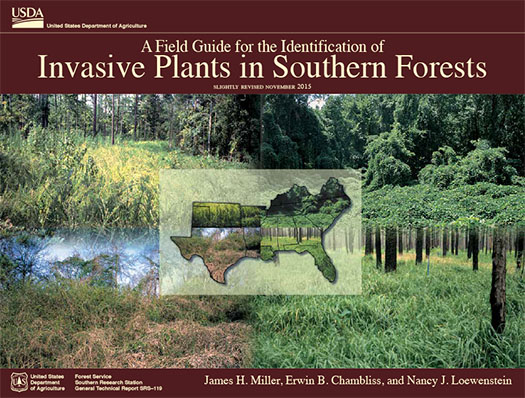 ---
In an ongoing effort to be fiscally responsible, the Southern Research Station (SRS) no longer produces and distributes hard copies of its publications. Download a free PDF here.
---
To select from a dropdown list of genera, type only the first 2-3 letters.
If "briar" doesn't deliver the results you want, try an alternate spelling such as "brier", etc.